Information about traffic and parking in Aarhus city centre Saturday, January 21, 2017, 16:00 to 23:00 

Last Updated January 20, 2017 

Aarhus is European Capital of Culture 2017, and the event will be launched with a grand opening ceremony on Saturday, January 21, with an expected number of spectators in the region of 50-60,000 people. 

Her Majesty Queen Margrethe II will open the celebrations, and a procession involving 4,000 people, illuminated ships, glowing lanterns and 1,000 choir singers and musicians will herald the fact that throughout this year, Aarhus will host the largest cultural event in Denmark in recent times. 

Such a huge event obviously requires space, and for a few hours on Saturday, January 21 this will affect the way we normally use the city. For practical and safety reasons, parts of the centre will be closed to all traffic during the event, and it will not be possible to use certain parking lots or have your car parked on the street. 

Traffic regulation will affect residents, shops and businesses in the specified area in the centre of Aarhus, so we appeal for your understanding and patience, and apologise in advance for any inconvenience this may cause. 

Traffic regulation and parking 
The centre will be closed to all traffic on Saturday, January 21 from 16:00 to 23:00. The areas affected are marked on the map. Because of the many thousands of participants and spectators, it will not be possible to drive to and from the area during that period. There will also be parking bans in a number of streets in this area from 8:00 - 23:00. 
If you need to use your car between 16:00 and 23:00, we recommend you to park the car in advance outside the cordoned-off area, for example, in Bruuns Galleri, Godsbanen, Ceres Byen, Navitas, Magasin or on the parking lot at Filmbyen. In addition, we refer you to parking lots outside the City centre. 

If you are a participant or spectator, we recommend you get to the city centre either by public transport or by bike. On the day, special bicycle parking will be arranged close to the route (see map below).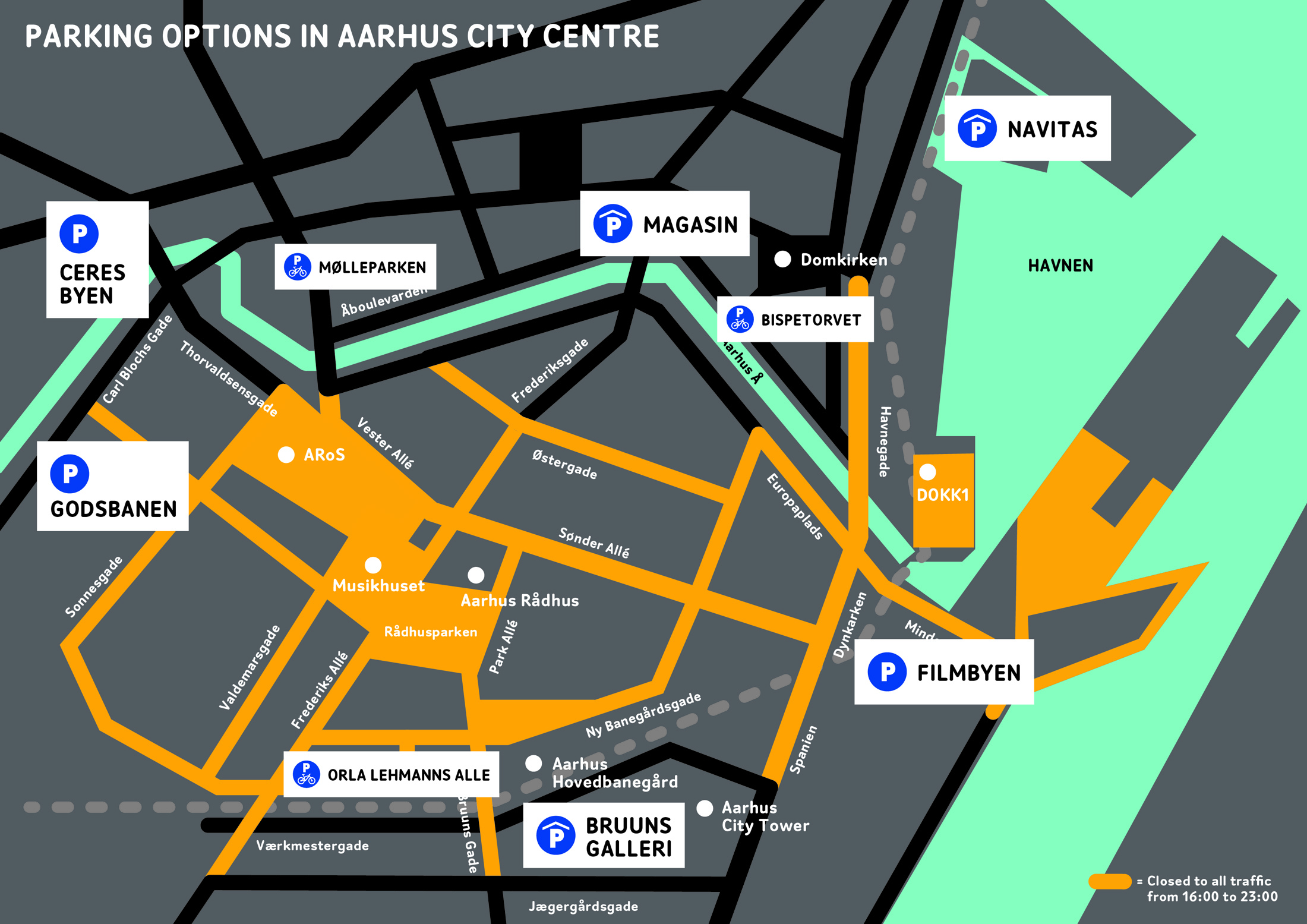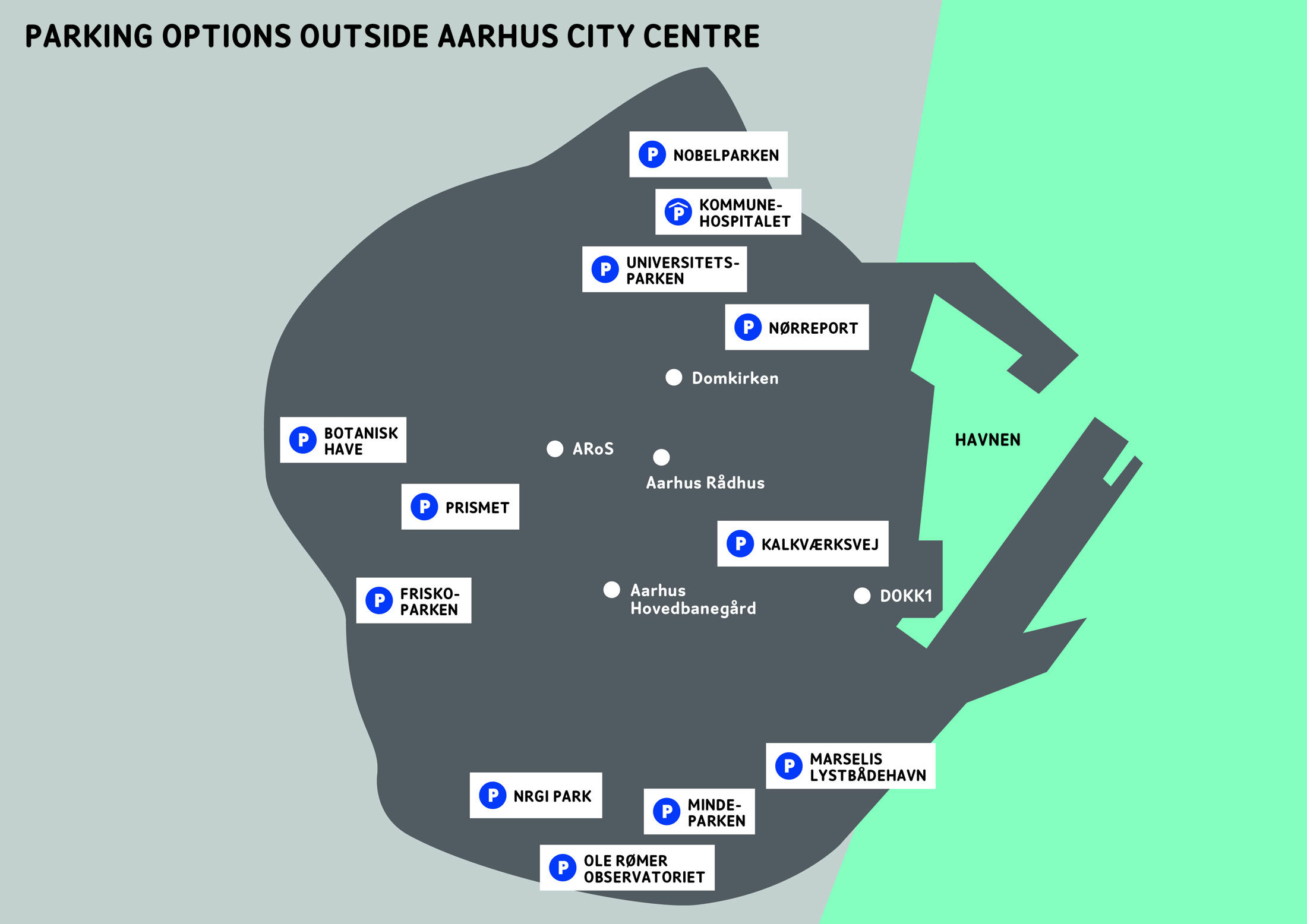 Please note that access to and from the multi-storey carparks and parking lots near DOKK1, Salling, Scandinavian Center and Ny Banegårdsgade will be closed from 16:00 to 23:00. 

Public transport 
At the official opening of European Capital of Culture on Saturday 21. January, Aarhus Municipality and the Aarhus 2017 Foundation offer everyone to use the yellow buses in Aarhus for free between 14.00 to midnight.

City buses in the centre will be rescheduled from 16:00 to 23:00. 

Also read: Free bus service at the opening

See also www.midttrafik.dk and www.rejseplanen.dk

Taxi
In connection with the car-free zone from 16:00 to 23:00, please refer to the taxistands at Bispetorvet and the temporary taxistand in Sydhavnsgade.

Further information
If you have questions regarding the above, please contact European Capital of Culture Aarhus 2017 on +45 2017 0094, or e-mail trafik@aarhus2017.dk 

Information concerning traffic and parking on Saturday, January 21, 2017 will be kept updated on this page.